This time, last year, we were headed into a holiday retail season like no other. This year? It's even more complicated. More than a year of shipping delays has created a frankly unbelievable backlog. Worker shortages at ports, delivery services, and retailers have exacerbated the supply chain strain. And, to top it off, the globe is still dealing with the uncertainty that COVID-19 causes.
These manifold challenges are causing retailers and suppliers to come up with creative solutions to make sure their sales targets are hit. Keep reading to learn more about the state of holiday retail this year and how suppliers can maximize their revenue opportunities.
State of Holiday Retail 2021
Retail sales are projected to increase by 7% in 2021, compared to 2020. However, with retailers facing the double threat of worker shortages and COVID-related outbreaks, their already stretched supply chains are getting worryingly tenuous. These forces are expected to cause further delayed shipping times, lower in-store inventory, and even fewer discounts.
While consumers may want to start their holiday shopping earlier this year, retail suppliers are already scrambling. After all, empty shelves aren't a "win" for anyone.
Unfortunately, the biggest tangle seems to be in shipping logistics. Inventory isn't making it through ports. According to Neel Jones Shah, global head of airfreight for Flexport, "Covid has turned supply chains on their head. We're seeing an astronomical rise in shipping rates, a dramatic lengthening of transit times, and a logjam of cargo at every port. Shippers are scrambling to figure out how to get their goods to market in time for the Christmas selling season."
Take a look at the chart below. Freight cargo delivery times are longer now than at any point during the last year and a half.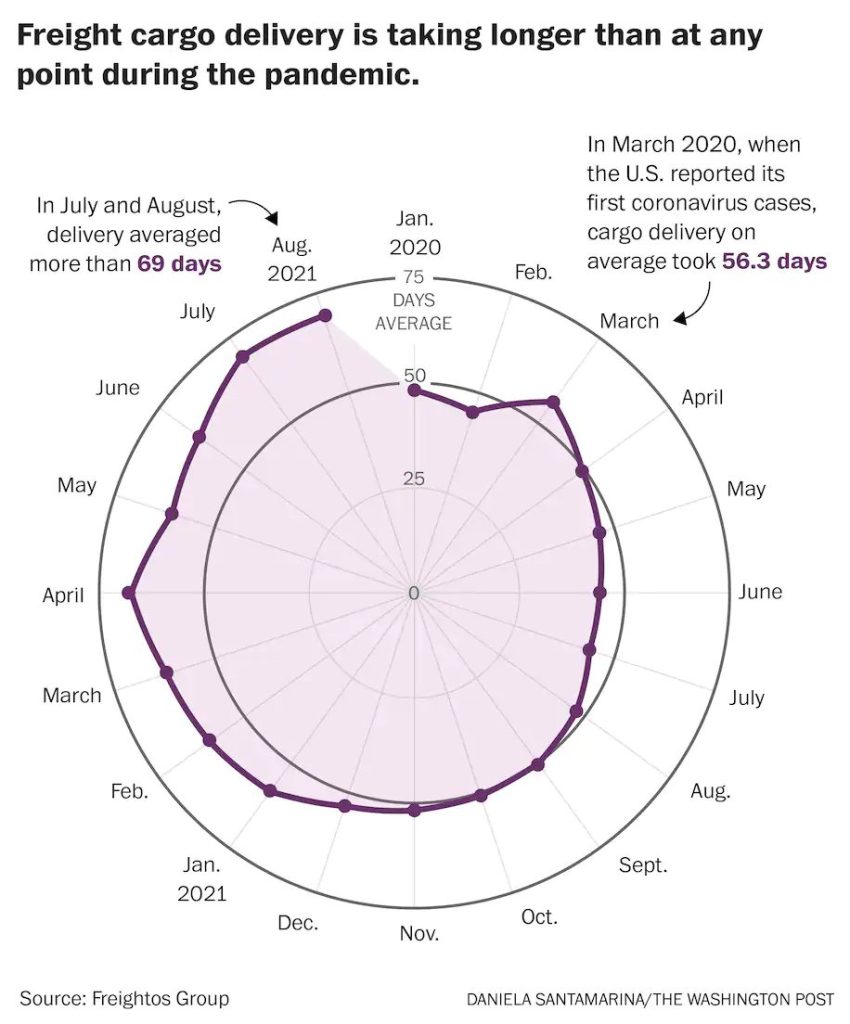 Retail giants, like Target, are responding by upping the number of hours staff will work and reimagining their seasonal employees. In fact, Target has said that they expect their current 300,000 employees will work more than 5 million additional hours during the holidays. They'll also be hiring 100,000 seasonal employees, though this is 30,000 fewer people than in previous years.
What's a Retail Supplier to Do?
Even though there's no getting around the complexity of this year, retail suppliers don't need to lose hope. There are still ways and time to make sure that this year's sales targets are met.
If you are aware of the supply chain and labor shortages, congratulations! You're on your way to being prepared. Be sure to document any potential backups in your own supply chain and create contingency plans to cover missed revenue.
Some are choosing to increase their prices and others are choosing to slim down their offerings. While there's no one right answer, be sure to project out the financial impact of all of your options.
One Cost-Effective Step to Take for Peace of Mind and More
If you find yourself in this position, with inventory backlog and labor shortages at your retail partner, it will be especially important to pay close attention to store execution once product arrives at the store.
The best way to make sure your products are selling?
Making sure they get to the sales floor and are set correctly.
That's where reset and revision audits by third-party retail merchandisers can come to the rescue.
RMS offers Target-exclusive services as a Preferred Partner. For less than $10 per store, you can confirm that your products made it to the shelf and POG plans have been executed across retail locations. And, if they're not, we can also fix them to make sure you're set and ready to go in time for the holiday traffic.
Make sure your product gets the attention it deserves this season, contact us today!